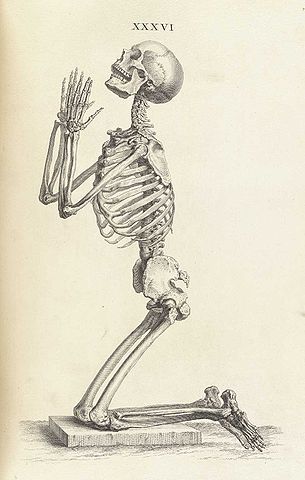 From the Reformation to The Great Awakening great movements of God have peppered church history. Many of these revivals have had teenagers on the leading edge and have led to massive surges in evangelization and world missions. It's been way too long since this nation has witnessed a true and sweeping spiritual awakening.
As a matter of fact I'm sick and tired of just reading about revivals of the past. I want to be a part of one. My heart's desire is to be a part of a spiritual awakening that spreads the Name and fame of Jesus across the nation and world.
It's time. It's time. It's time.
2 Peter 1:3 reminds us that, "His divine power has given us everything we need for a godly life through our knowledge of him who called us by his own glory and goodness." In other words we have all the tools, resources and power that we need to live a revival-caliber life that advances God's kingdom for God's glory.
So, if everything is available for us to experience true spiritual awakening how do we access and unleash it?
1. Pray for revival relentlessly.
D.L. Moody said, "Every great movement of God can be traced to a kneeling figure." Revival starts on our knees calling out to God for the advancement of God's kingdom to every corner of this planet and every crevice of our heart.
The first request we should ask for according to the The Lord's Prayer is not for daily bread, but for God's kingdom to come and God's will to be done on earth as it is in heaven. This, my friend, is a prayer for spiritual awakening. And this singular request should drive our prayer lives.
Even as I type these words thousands of teenagers across the United States are taking The 30 Day Daniel Challenge. They are praying on their knees 3x's per day, once in the morning, once at night and once at their schools for 30 days. They are begging God for revival in their lives and in their schools. So far God has used this challenge to mobilize 20,000+ teenagers in the last two months to take this challenge starting at our Dare 2 Share training conferences.
See You at the Pole is a global movement of 2,000,000 plus teenagers from 20 different countries who gather around the flagpole in front of their schools the 4th Wednesday of every September at 7am praying for the spiritual transformation of their schools.
It started when three youth groups united for a Disciple Now weekend in 1990 in Burleson, Texas and were broken hearted for the spiritual condition of their schools. They decided to go to three schools that night and pray. Not knowing exactly where to rally they chose the flagpoles of each school as their rally point. Other youth leaders and teenagers heard about it and started following their example. Over the last 24 years It has exploded into an international prayer phenomenon.
We need to pray. We need to ask God for revival to be unleashed, first in us and then through us. Whether or not it's around a flagpole or on your knees or while you drive we need to pray for revival. Like kids who ask their daddy for candy and don't give up until he caves in, we need to beg God for the sweet taste of revival and not give up until he says "yes!"
2. Purify our hearts intentionally.
"'Everyone who confesses the name of the Lord must turn away from wickedness.' In a large house there are articles not only of gold and silver, but also of wood and clay; some are for special purposes and some for common use. Those who cleanse themselves from the latter will be instruments for special purposes, made holy, useful to the Master and prepared to do any good work." 2 Timothy 2:19-21.
God will only serve up revival on clean plates. He wants us to scrub out the rotten stuff leftover from our old lives that keeps us from living out who we really are in Christ. Then we will be clean vessels he can use to advance his mission and message.
From lust to pride to slander to bitterness to laziness to ________________ (you fill in the blank) we need to go on the attack. Yes, the war was ultimately won when Jesus died on the cross and our sins were crucified with him. Your old self is dead because of the cross but the new you is alive because of the resurrection.
So, if we are dead to sin and sin is dead to us, why is it such an on-going battle against sin? Because, though dead, sin is still a zombie that we must fight…and we are called to be zombie killers. These stumbling sins, though technically dead, can still bite, scratch and cause all sorts of mayhem in our lives.
Paul described our battle with the walking dead this way in Colossians 3:1-5, "Since, then, you have been raised with Christ, set your hearts on things above, where Christ is, seated at the right hand of God. Set your minds on things above, not on earthly things. For you died, and your life is now hidden with Christ in God. When Christ, who is your life, appears, then you also will appear with him in glory. Put to death, therefore, whatever belongs to your earthly nature: sexual immorality, impurity, lust, evil desires and greed, which is idolatry."
When the Ephesian believers killed the zombies of sin hiding in their closets they saw revival. Acts 19:18-20 puts it this way, "Many of those who believed now came and openly confessed what they had done. A number who had practiced sorcery brought their scrolls together and burned them publicly. When they calculated the value of the scrolls, the total came to fifty thousand drachmas. In this way the word of the Lord spread widely and grew in power."
A traumatic event triggered these believers to deal with the sins (sorcery, witchcraft, etc) that they had been keeping in their closets. They gathered their witchcraft scrolls full of incantations and spells then burned them publicly. Although they were believers before this scroll burning they decided to deal head on with the sins that they had been hiding and harboring.
What was the result? "the word of the Lord spread widely and grew in power" (aka "revival!")
Whatever sins you are secretly struggling with it's time to clean the closet! If we want to be part of this revival then we must be fighting the good fight against the sin within in the power of the Lord Jesus Christ! As you trust in Jesus to fight the battle through you, you cannot lose. The proof of your victory is a bloody cross and an empty tomb!
3. Proclaim the good news boldly.
If revival is fueled by prayer and sustained through purity then it's is driven by proclamation. The mighty river of revival always spills it's banks and unleashes a flood of evangelism.
The Reformation led to the advancement of the gospel across Germany, Switzerland and the rest of Europe in unprecedented ways. It started in Martin Luther's prayer closet and culminated as the buzz of the good news of "Sola Fide" (we are saved by "faith alone" not by good works) spread through the lives and lips of countless Christians.
John Wesley unleashed his circuit riders in the 1st Great Awakening. D.L. Moody mobilized an army of preachers through Moody Bible Institute in the 2nd Great Awakening. Many of those who led the way in these great moves of God were young people looking for a cause to live for and die for. They found it in Christ and His Cause, THE Cause (formerly known as "The Great Commission."
It's time once again for the church to wake up, rise up, speak up. It's time for youth leaders and teenagers, for pastors and people to pray for revival, to purify their hearts and proclaim the good news.
And don't you dare try to do this alone. Christianity is a team sport. Get this going at your school with a group of friends, in your Bible study or at your job with some on-fire believers.
It's time to say some prayers, kill some zombies and save some souls.
Who's with me?