It's easy to see teens as the "necessary evil" that you, as a pastor have to put up with when leading your church. After all, they are often the ones texting, SnapChatting or just plain old chatting during your sermon. They roll their eyes when you make your best jokes and don't at all look interested in your most insightful sermon points.
It's easy to write teenagers off…but don't.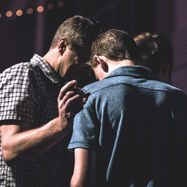 Throughout history teenagers have been unleashed as primary change agents in almost every significant spiritual awakening. From the early church (the disciples were most likely teens when they began to follow Jesus) to St Patrick and his young posse of preachers to the Reformation to the Great Welsh Revival to the Great Awakening, teenagers have played a central role to advancing the kingdom of God and reviving the church in the process.
Jonathan Edwards, the chief historian of the Great Awakening and preacher of the awe-inspiring "Sinners in the hands of an Angry God" wrote these words about this unparalleled spiritual movement, "the revival has been chiefly amongst the young."
These hormone-filled young people who take risks, break rules and drive us crazy at times can be used by God to accelerate his kingdom forward in fresh and exciting ways. And when this movement comes alive in your church your congregation will never be the same!
Here are 4 reasons every church should put a MAJOR FOCUS on reaching, discipling and mobilizing teenagers:
1. Teenagers don't have to become statistics.
We've all heard the staggering statistics. Teenagers are more likely to leave the church after they graduate from high school than stay.
While the statistics may vary, one variable remains: There is a strong likelihood that teenagers will abandon their Christian faith once they are out from mom and dad's authority. At the minimum they will stop going to church. At the maximum they will become antagonistic toward the Christian message.
But one doesn't see that level of faith abandonment in the Mormon Church. Why? Because they are given a mission from square one! At the age of 12 they are commissioned as priests in the Mormon church. By the 9th grade they are at school at 6 am to go to their version of "seminary" where they can learn more about Mormonism and recruit others for the cause. In their daily seminary classes they are mobilized to evangelize and then, after graduating, many of them go on a two year mission.
A young Mormon's faith has been steeled and sealed on our doorsteps. Barking dogs, slammed doors and obnoxious Christians toughen their faith and deepen their commitment to it.
What if we commissioned our teenagers as ambassadors of the Gospel (which they already are according to 2 Corinthians 5:20) and mobilized them to share their faith with their peers? They would be much more likely to, not only grow in their faith, but be "coming in (spiritually) hot" into their post-high school lives.
Nothing helps teenagers to own their faith like giving it away. So, let's stop playing defense with the faith evacuation, post graduation statistics. Let's be used by God to start playing offense and prepare our teenagers for a life on mission for the Gospel.
2. Teenagers come to Christ quicker and spread the Gospel faster.
According to Barna about 70% of those who put their faith in Jesus do so by the age of 18. If teenagers come to Christ much faster than adults then why is it that the youth ministry is one of the most unfunded areas of the typical church's budget?
We should invest in those who are most likely to put their faith in Jesus. That's children and teenagers!
If you ran a business wouldn't you put the majority of your marketing dollar into the demographic most likely to buy your product? Of course you would! So take a look at your church's youth ministry budget and ask yourself, "Are we investing in the demographic most likely to accept our message?"
But, not only do teenagers come to Christ quicker, they spread the Gospel faster than adults. I don't need statistics to back me on this. I have been on a three decade quest to mobilize teenagers for the Gospel. And for ten of those years I was the pastor of a church. And I can tell you, without statistics to back me, that teenagers are much more likely to share their faith than adults.
I've preached at countless churches and countless youth conferences across the nation over the last 30 years and I assure you that I can mobilize teenagers to share their faith right away (send a text to a friend, take them out to collect canned food and share Jesus, make a phone call to someone, etc.) But most adults need a little more processing time.
With a push of a button I've witnessed teenagers send out Gospel conversation starting videos to 1,000 of their online friends. I've witnessed teenagers share Jesus with every friend they could get ahold of in one night. I've witnessed teenagers calling and begging their friends to put their faith in Jesus while shedding tears of compassion.
Teenagers can spread the Gospel faster. But they must be inspired and equipped to do so. And we must help them view this faith sharing experience as the ultimate cause they are privileged to be a part of, not as a religious obligation.
3. Teenagers are your Farm Team for the future.
What is a Farm Team? According to Sportingcharts.com, "In baseball, a "farm team" is a minor league team affiliated with a Major League Baseball (MLB) organization. Such minor league teams are under the control of the MLB organization through strict franchise rights."
Every professional baseball owner worth their salt, knows that the strength of one's baseball team is really rooted in the depth and strength of the farm team. This is where they find their best up-and-comer players. When injuries plague the Major League team they look to the Minor League team to fill the slots. When the big-time baseball players aren't cutting it they often get benched for younger, hungrier upstarts.
What's true on the baseball field should be true in the church. We need to be building a farm team of young leaders who are holy, humble and hungry to lead the way.
I thank God that I was deeply impacted by a church that put a high premium on reaching, disicpling and mobilizing teenagers. I was trained to preach, to lead ministries, to evangelize and to disciples…all by the time I was a Freshman in High School. And I was just one of many teenagers who were ready to play ball.
Look at your youth ministry as your farm team. They can be your best leaders in the future.
4. Teenagers can set the pace for your entire church now.
An on-fire youth ministry can become the thermostat for the rest of your church. They can set the pace for outreach, evangelism and discipleship. They can reach the bad, the broken, the bullied and the bullies and then bring them all into your church.
There's not a serious Christian adult I know who doesn't get excited when they see youth set ablaze with the mission and message of Jesus. Even our crankiest charter members can crank out a smile when those "pesky teenagers" start really living and sharing their faith.
Every mom and dad, every grandpa and grandma, down deep inside want to see this next generation reached. When this truly starts to happen in a congregation it can be the beginning of a church-wide spiritual awakening.
That's exactly what happened in the church that reached me and my family. The pastor of the church had a penchant for making disciples of young people. As a result we had 800 teenagers in our youth ministry (most of whom had come to Jesus from teens reaching teens). At the time we only had around 300 adults in the church!
What happened? The adults couldn't wait to hear stories of youth transformation in the weekly sermons. Parents of these reached teenagers would often show up at church to find out how their teen had been completely transformed.
The entire church was set ablaze! The fire started in the youth room and spread to the church auditorium.
As a pastor make sure you are helping your youth leader prioritize the RIGHT BRAND of youth ministry! The time is past for just fun, games and a quick lesson. The time is ripe for teenagers praying together, learning together and then reaching the lost together!
I challenge you to read my book Gospelize your Youth Ministry. It is built on the same 7 values of a Gospel Advancing, disciple multiplying youth ministry that are transforming thousands of youth ministries globally. These values are rooted in the book of Acts and have church-wide ramifications. You can buy a hard copy or download a digital version for free on our Dare 2 Share store.
Read the book and ask your youth leader to join you. Meet weekly and discuss what you are learning. If your youth leader is not aligned with the seven values of a Gospel Advancing ministry , coach him/her until they are. If they are aligned, then applaud them and brainstorm ways they can be even more effective.
Also, they can tune into my Gospelize with Greg Stier podcast to get more ideas on building a strong and effective youth ministry.
I challenge you to think strategically about the youth ministry at your church. Don't settle for the typical. Start the fire in your youth room and let it catch your whole church on fire. Lead your youth leader to lead the way.
After all God loves to use the unlikely to accomplish the impossible. And there's nothing more unlikely than the typical teen.