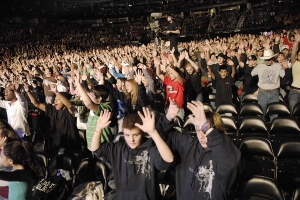 1. The energy of thousands of teenagers rallying to be inspired and equipped to share the gospel of Jesus Christ.
2. Worship led by the amazing band Everfound.
3. A powerful Friday night drama called "Wrestling Grace" that will break your teens' hearts for the lost and get them to see their friends differently.
4. Zane Black
5. We will be introducing a new outreach campaign that could exponentially grow your youth group with new disciples!
6. New content (you've never seen this conference before!) New resources (that will blow you away!) Same GOSPEL (if it ain't broke…)
7. Introducing Boogalu and Moral One from Humble Beast.
8. A Saturday night experience that will transform your teens' view of what it means to follow Jesus.
9. Hilarious sketches!
10. A youth leader session that will inspire you to leave the safety of the boat and "walk on water" in the way you do ministry.
For more information on Dare 2 Share events, click here.