1. I'm from Denver and it's a thing here.
2. The Broncos are a competitive football team almost every year.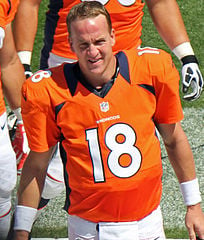 3. We have committed fans. We have sold out every game since 1970! Many other stadiums are "IN-COM-PLETE!" when it comes to attendance.
3. Our logo is better than the new Los Angeles Chargers' one…actually, so is every other NFL teams' logo.
4. They are not the Chiefs.
5. We won the Super Bowl last year (against all the naysayers, oddsmakers and dabbers!)
6. John Elway, as the General Manager of the Denver Broncos, is still every bit as competitive as he was as a quarterback.
7. Vance Joseph is a leader of men and will lead us to another Super Bowl.
8. We have a rich history as a football team full of orange, blue and many colorful characters.
9. The Broncos will never leave Denver (our fans would burn the city down!)
10. Our football stadium is only a few blocks away from where my family was radically transformed by the Gospel of Jesus Christ 40 years ago. Every time I drive by it I'm reminded of the power of Jesus to change lives.