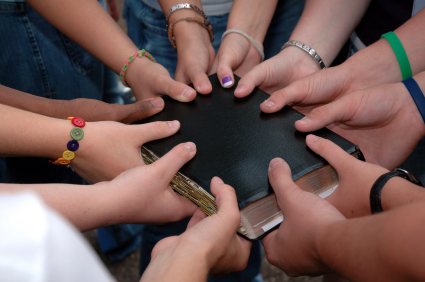 Today I received an amazing letter from a middle school youth leader. She and her teenagers attended last weekend's Dare 2 Share conference in Loveland, Colorado. Here they were motivated and equipped to start gospel conversations using our brand new Life in 6 Words evangelistic book.
Last night something amazing happened in their youth group meeting. I'll let Julie (the youth leader) tell you in her own words,
"Dear Greg,
Middle school youth group last night was one of the most powerful and impactful nights I have ever been a part of. We provide a free dinner the first Wednesday of every month so the kids can invite their friends. We played a short video recapping the amazing weekend we had at Dare2Share. Afterwards I asked two of my students to come and share what God was doing since the weekend. Little did I know that the night would turn into many youth sharing about what God was doing in their hearts & in their lives.
Dane (8th grade boy) had shared with a friend and she trusted in Christ, then she then shared with Dane how her dad might be dying of cancer. Dane told her to share with her dad about Jesus. She did and he trusted in Christ too. Then on Monday Dane went to school and gave the Life in 6 words book to his friend to read during lunch. The boy only got through 5 pages, put the book down and said "Tell me what this means." Dane explained and he trusted in Christ right there in the lunchroom at school.
Another student Jackson (7th grade) shared how his friend came to know Christ at D2S. Maxine shared about how her friend trusted in Christ, and that friend told her mom and she trusted in Christ. Tianah (6th grade) shared about her friend Blake who needed Jesus. She gave him the Life in 6 words book and he didn't want to read it, but eventually did. As Tianah was explaining the Gospel to Blake and he is trusting in Christ, a friend was listening to the conversation behind her, taps her on the shoulder and says, "Hey I heard about that free gift, I want it too." So she put her faith and trust in Christ.
Brenden (8th grade), Luke (8th grade), Madi (8th grade) all share about talking with their Buddhist neighbor, neighborhood kid, and a friend from school who needs Jesus. They did not trust in Christ but all of their peers thanked them for sharing with them. They were not discouraged but hopeful how they would continue to keep sharing. Bailee (7th grade) shares about her friend who needs Jesus, she will continue to share with her.
At the end of the night I ask if anyone wants to share the Gospel right now. Bailee jumps up and heads to the front and tells all the youth and watches 7 kids trust in Christ. Then after we pray we break up into small groups. A girl walks up to Bailee and says, "I have more questions for you." So Bailee leads her to Christ right there in the entry way. After that Bailee runs up to me and gives me the biggest hug saying "God is amazing, look at Him work". Then Dane comes up and tells me he thinks maybe he should be a youth pastor so he can teach others how to share his faith.
Julie Rietema
Middle School Youth Pastor
Grace Church"
Wow! When middle schoolers collide with THE Cause of Christ in the power of Christ for the glory of Christ amazing things happen!
By the way, if you are on-the-fence about bringing your middle schoolers, high schoolers, home schoolers or Christian schoolers to the Dare 2 Share conference closest to you I hope this letter changes your mind. It's time for you to bring your teens to this life-changing, kingdom-advancing, gospel-centered weekend!