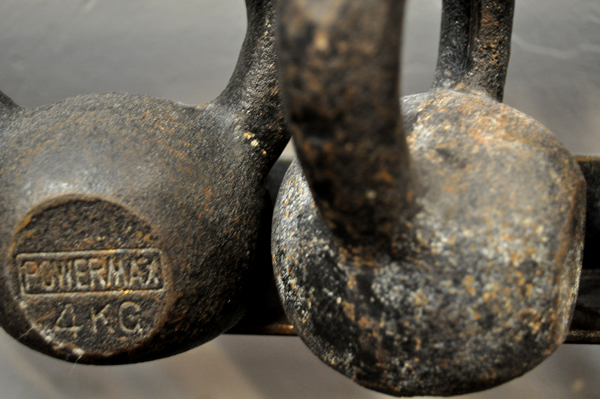 "But you, keep your head in all situations, endure hardship, do the work of an evangelist, discharge all the duties of your ministry."2 Timothy 4:5
Although I am not a bodybuilder I come from a family filled with them. Three of my uncles and some of my cousins have won bodybuilding and powerlifting competitions. But even the ones who didn't win competitions still loved to work out. My upbringing was filled with barbells, flexed biceps and well-viewed mirrors ("Mirror mirror on the wall who has the best pecs of them all?"…not me!)
Even though I was the puny one growing up I learned a lot about strength training from watching and listening to my family's endless discussions about the best workout routines, types of equipment, bicep-bursting supplements and bodybuilding poses.
I worked out and worked out as a teenager but it didn't seem to help. It felt like I came from a different, more wussy genetic strand than my knuckle-busting family of brutes. Once, out of frustration, I asked my cousin Eric how I could get big (he could bench 500+ pounds) and he told me this, "I've gotten as big as I'm gonna get. What you do is way more important."
What did I do? I shared my faith. If there were people around me I would share Jesus with them. If people weren't around me I'd go find some.
You see, I'm not a body-builder or fitness guru but I am an evangelist…have been since I started sharing my faith at the age of eleven. Now, through Dare 2 Share, I get the privilege of training tens of thousands of teenagers and youth leaders across the country to share the good news of Jesus in a relational way.
It occured to me that, if you think of strength training in terms of evangelism, many youth leaders (and Christians in general for that matter) need to be put on a workout routine. Most are not natural evangelists so they need a straight up work out plan to get strong in this area of weakness.
Timothy fell into this category of Christian. He was a great discipler and pastor type but he was not a gifted evangelist. That's why Paul challenged him in his final letter to "do the work of an evangelist."
Most youth leaders I know are more Timothy than Paul when it comes to their gifting. They, like young Timothy, love on people well, pour into them patiently and serve them relentlessly. Without Timothy's we would have a lot of converts but very few disciples! But when these natural disciplers start working out in the area of evangelism they become not-so-tiny Timmies who take those they lead both deep (into discipleship) and wide (into evangelism!)
If you are a youth leader who leans toward Timothy here are 3 practical ways to get ripped and shredded in the hard core workout routine of evangelism…
1. Get pumped up!
"For this reason I remind you to fan into flame the gift of God, which is in you through the laying on of my hands. For the Spirit God gave us does not make us timid, but gives us power, love and self-discipline." 2 Timothy 1:6,7
Getting pumped up when working out happens when blood rushes to a flexed muscle in your body. Try flexing your right bicep for 15 seconds straight and then relax it. You'll feel the pump (if you don't feel anything you may want to hit the gym!)
We get spiritually "pumped up" by learning to yield to the Holy Spirit who dwells within us! When we choose to yield to the Holy Spirit his endless power supply kicks in and we begin to operate in his strength. It's like legal spiritual steroids when it comes to evangelism! He gives you the power to witness, starting where you are, and expanding to the uttermost parts of the earth (Acts 1:8.)
Youth leaders, as you learn to trust in the indwelling Holy Spirit he will give you the strength you need to open your mouth fearlessly to share the gospel (Ephesians 6:19,20.) So yield to him and get pumped up!
2. Push yourself to "failure"!
"In weight training, training to failure is repeating an exercise (such as the bench press) to the point of momentary muscular failure, i.e. the point where a repetition fails due to inadequate muscular strength." Wikipedia
"Failure" is success when working out. When you can't go anymore then you've won because bodybuilding really starts with body breaking. You break your muscles down to the point where they can't push or curl or squat anymore. Then, over the next 24 hours, your body rebuilds those broken muscles back up even stronger than they were before…hence "bodybuilding." You know you are hitting failure in working out when you quake and shake and can't go anymore.
The same is true of evangelism. When we quake and shake and can't go anymore we are entering the realm of faith.It's at these times we are put in a position to have to trust God or run away from the opportunity to share the good news. With this in mind I have to ask you these questions:
-Are you pushing past your comfort zone when it comes to evangelism?
-Would you be willing to start a neighborhood spiritual discussion group to engage those around you with the gospel?
-Have you made evangelism a program that is so controlled (i.e. you holding the microphone in an outreach meeting) that you don't have to actually have a face-to-face "awkward" conversation about Jesus with anyone?
-What are you willing to do in the next 24 hours to get out of your comfort zone and push to failure when it comes to evangelism.
Failure is success both in evangelism and bodybuilding. Because, when we are weak, He is strong.
3. Strengthen your core for THE Cause!
"And the things you have heard me say in the presence of many witnesses entrust to reliable men who will also be qualified to teach others." 2 Timothy 2:2
As you begin to get pumped and push to failure in your own evangelistic work out routine you'll be able to more effectively put your teenagers on the same regimen. Even if you're not very good at it they'll be inspired by your courage to go for it.
Start with your core teens and get them rocking THE Cause. Then let them influence the other teenagers in your group. By the way, a great way to do that is by getting your core group of teens to Lead THE Cause University this summer. It will be P90X meets Insanity for evangelism, leadership training and movement mobilization!
No matter how weak you may feel when it comes to evangelism that can turn around if you are willing to put the work in. God can "pump you up" into something you never imagined to advance His glory and spread His story through you and your students.
Get started today. Don't be discouraged by struggles in the process. The words of fitness trainer Tony Horton apply to evangelism as well, "Do your best and forget the rest."