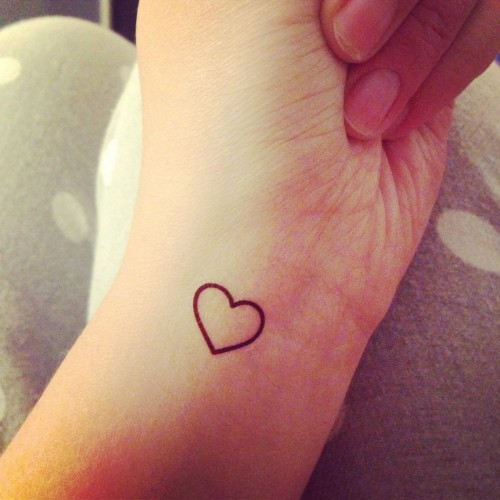 Yesterday I received this e-mail from Emily. She lives a few blocks from us and her mom is a teacher in the same county my wife is. Once in awhile Emily babysits our kids. I had heard that she had been to Dare 2 Share and that it really impacted her but I didn't know her full story until she sent me this yesterday. She gave me permission to share it with you.
"I grew up in a Christian home, with loving, supporting, encouraging parents and two younger brothers. We went to church on Sundays, participated in Awana, and went to every single VBS. Growing up I began playing soccer at the age of four. It became a part of me; it was my life and quickly became what I idolized. I played it religiously, with every soccer camp; three practices a week, and games every weekend. I was told at one point, that I was one of the top twenty players in Colorado for my age group. They had me playing very competitively because coaches believed that I was good enough. My first knee surgery was when I was eleven years old. I got hit from the side playing against an 18-year-old boy and instantly tore my meniscus. After I recovered from this surgery I went back and continued to play. In eighth grade I was playing in a very competitive game in Loveland, Colorado. It was a gorgeous day, the wind was brisk the sun was out. It was the best kind of day to play soccer. I went up for a header and when I landed, a player from the other team took me out. My knee popped and you could hear my coach and parents on the sidelines gasp, they all heard the pop. Instantly I tore my ACL and meniscus. Recovery from this surgery was a lot tougher. I had physical therapy multiple times a week and strength training, I was not going to let this surgery and obstacle get in the way of my dreams of playing in college.
So, after I recovered I went straight back, full force. Sophomore year of high school, we were playing indoor just for fun and to get some touches on the ball before tryouts. An incoming freshman got so competitive and determined that she was going to do anything in her will power to prove to the coaches that she was good enough for varsity, she proved it by tackling me from the side. Automatically my knee popped. Again, I heard gasps. I felt defeated; I knew it was my ACL again. When I got it checked out, it was my ACL, meniscus and I had broken my tibia. At that moment, I knew that was it. I knew that my soccer career was over. I was quickly became depressed. I was not allowed to be home alone, but all I wanted to do was be in my room. At this time at home, my cousin had just passed away, my grandpa (who was and still is my number one encourager) was diagnosed with Alzheimer's and was spiraling down hill quickly, and my little brother was diagnosed with anorexia. The stresses of my family, and my knee consumed me. I became very good at disguising my feelings, because I wanted to be there for my brother and to get him help. They told us in September that if he did not get help, he would be hospitalized by December. My faith at this time was invisible. It was non-existent. I believed in God, but I was very angry with him. I did not understand why he was taking everything and everyone away from me. Thoughts and dreams of suicide were constant. My depression began to take over my life, but I could not tell anyone.
My youth leader knew something was up, I was not myself and I did not want anything to do with anyone. She immediately told me she had an opportunity for me. Our church had just a few tickets to take a handful of students to this thing called, Dare 2 Share. I was very hesitant, but I knew it was a weekend away, so I took it! I showed up not knowing what to expect. The first day was very foggy, I was physically there but mentally was not. It was a lot for me to take in and comprehend. I remember walking in the second day. Everyone dancing and praising a God who they loved. That day Greg told us that he drew a heart on his hand every conference, to remind him that his family loves him and God loves him. Out of everything that he could have said that conference. That is the only thing that I remember. That night was the concert with Shane and Shane, we were singing, Our God. "Our God is greater, Our God is Stronger," that moment my entire body filled with goose bumps and tears began to fall down. I was not a person to show my emotions to people, but I could not control whatever was happening. I prayed. All of a sudden the 5,000-pound weight that was hanging on my neck and shoulders was lifted. It was God. I knew it was God. I had just been freed. He loved me. He saved me. He comforted me. He assured me, and he was forgiving me. That night I re- accepted Christ. Everything that I was told at that conference went into place that minute. I drew that heart on my wrist everyday for a year before I got it tattooed. Reminding me that no matter what I was going through or challenged with, God is there next to me. Guiding me, loving me and comforting me, because HE loves me, he died for me, and has a plan with everything that he has placed in my life.
When I say that Dare 2 Share saved my life, I mean it. After the conference I dedicated my life to Christ. From the 'Un Tour' on, I would participate in everything God had planned for me and given me the opportunity to be involved with. I became a leader at church and have been apart of some of the best and most random experiences. I have met some of the coolest people and have had the opportunity to witness to many. I have traveled to Spain, Morocco, England and Kenya getting to love on others. I am now majoring in youth ministry and minoring in Intercultural ministries at Colorado Christian University. Coach Lopez at CCU asked me to play on the soccer team, because she knew my story. I had the opportunity to play soccer in college, but I turned it down because of all the other opportunities that I would rather be a part of. Many people ask me what I am wanting to do with my major and my answer is always, "Follow where God leads me". Whether it is here in the states or world wide, I feel as though God has sent me here to share my story and most importantly share HIS story. My life verse is Isaiah 6: 8, "Then I heard the voice of the Lord saying, 'Whom shall I send? And who will go for us?" And I said, "Here am I, Send me!" I cannot thank Dare 2 Share enough for the incredible, life altering work they are doing. When churches and youth groups ask me for ideas to do with their students, I always say Dare 2 Share. So, thank you, thank you, thank you!"
Such an encouraging e-mail! Emily is a shining light for Jesus wherever she goes. I'm humbled that God used Dare 2 Share to play a part in her story.