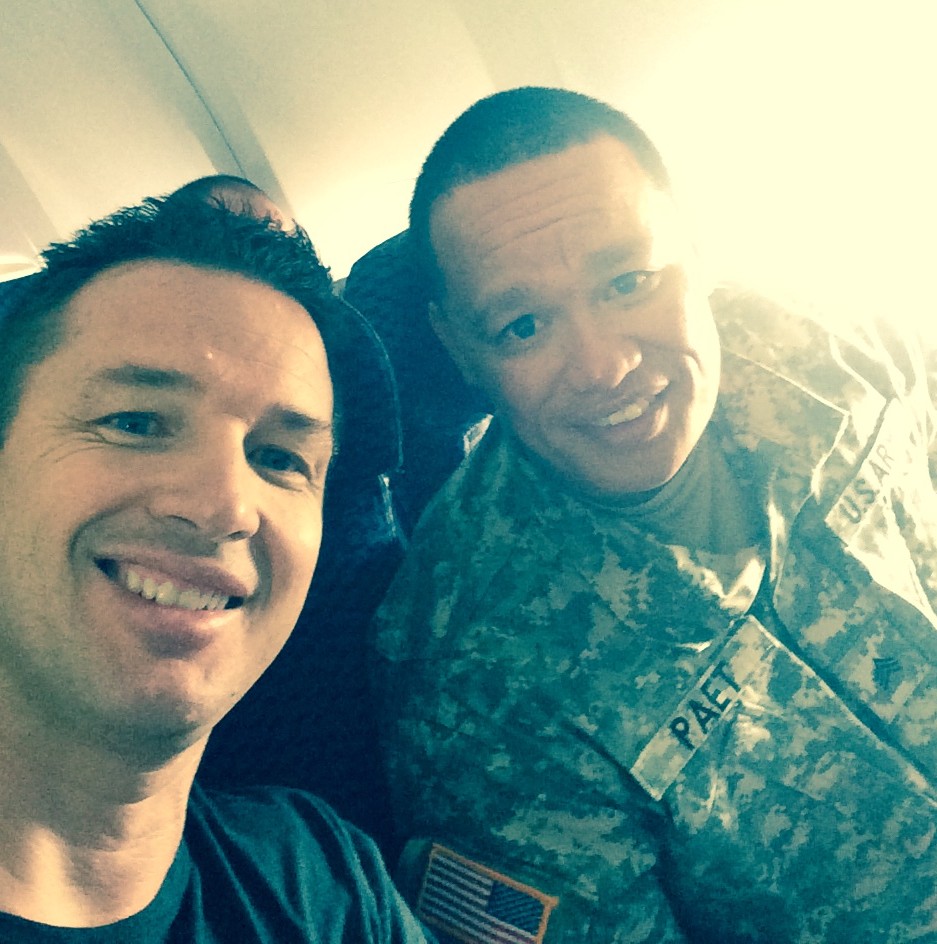 This morning when I walked up the aisle of the plane I had just boarded I realized that Sergeant Duke was sitting in my seat, 35C. After a short (but pleasant) exchange this muscular and serious looking soldier scooted down two seats to where he was supposed to be seated.
I thanked him for his service and we chatted about where he had been stationed and what he did in the military. Soon he asked me what I did. When he realized I was in youth ministry it opened up a floodgate of conversation. Being raised in Guam and transplanted to the States at the age of 14 he had gotten caught up in the gang life as a teenager. But a youth leader reached into his life and invited him to attend a weekend Baptist retreat. His sole reason for going were the "hot" girls he knew would be there.
But, instead of getting a girl, he got something better…saved! Duke put his faith in Jesus that weekend. And that youth leader who reached out to him initially met with him relentlessly to pour into him everything he needed to know to get kick-started as a new Christian.
Duke didn't go back to his old lifestyle. Instead Duke went all in as a Christian.
Before he joined the military Duke actually became a youth leader himself. Although he never went to Bible college or seminary for training he was ready and willing to be made able along the way. The only things he knew when he started were what his youth leader had taught him growing up…and that was enough to gets started.
Later on the youth leader who had invested so much of his life into Duke admitted to him that he was about to give up on youth ministry altogether. He was tired of dealing with know-it-all Christian teenagers who oozed apathy and arrogance. But it was being able to reach into Duke's life that re-energized him with the sobering reality that the gospel does work and can transform anyone and everyone, gang members, criminals and, yes, even church kids, into radical followers of Jesus Christ.
I armed Sergeant Duke with the Dare 2 Share app, our new Fearless Devo and am sending him a box of Life in 6 Words books to use to engage gospel conversations in his new hometown of Colorado Springs. He told me that our conversation energized him to win the "second war" he is fighting right now, the battle for the souls of the lost around him. I can't wait to hear the stories (that he promised to share with me) as he advances the gospel one conversation at a time.
Maybe you are a youth leader who is teetering on burn out. Maybe you too are tired of dealing with apathetic teenagers who claim to know the truth but are currently living far from it. Take a cue from Sergeant Duke's former youth leader. Invest in "that kid", that teenager who seems unreachable. Share the gospel with the bad, the broken and the bullied. Start with the outcasts because that's what Jesus did. Then disciple the new believers until disciples are made and multiplied.
You too will be re-energized for THE Cause of Christ and youth ministry.
Just like Sergeant Duke.