Hey D2S Conference fan, yes you. You know who you are, the annual tour is on your calendar year after year.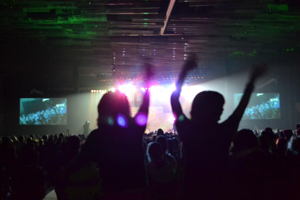 You get it, you love it (and so do we by the way!) The lights, music, thousands of teenagers encountering the perfect love of God and His radical message of grace, the tangible energy after the outreach experience where teens are buzzing with excitement having been used by God, part of His Cause.
You are in, praying and pushing to see your students reach their friends for Christ. And yet, you haven't been to a Lead THE Cause summer event. Maybe you already have a lot going on and you've seen good things from your other events.
My friend Carrie felt the same way, but she decided to give Lead THE Cause a try. Check out what she had to say:
"I have attended D2S conferences for over 12 years because I love the vision they have to reach, grow and disciple students through evangelism, but to be honest it was really frustrating to see them get all fired up at the conference and then have it fade away.
Several friends urged me to try Lead THE Cause, but I remember thinking if the conferences don't "work" long term "why would I invest so much more time and money into it?" Besides, we had seen some great results from our summer mission trips and I just didn't think I could afford the time or money to do both the mission trip and LTC, so I didn't go the first few years.
Last summer, I finally decided I'd give it a try. I was, and still am, blown away by the difference in our students. It was like everything I could tell they were trying to do at the conference finally came to life in our students at LTC. The extra time in prayer and study and the creative methods used at LTC, along with the synergy and fellowship of being around other students on the same mission, spurred them to really change their heart, learn the techniques, and give them a vision for continuing to make disciples who make disciples.
LTC radically changed myself, our students, and everything we do in our youth ministry."
Something incredibly different happens at Lead THE Cause, the flip of a switch, a DNA transfer. Leaders and students can't help but leave changed, and not just for that summer or that year, it sticks, for life.
There's a reason we have decided to retire the two day conferences after the Unshakeable Tour this Spring and it's because of the long-term impact we've seen on both students and youth leaders through Lead THE Cause. We are saying goodbye to the conferences so we can say hello to doing more Lead THE Cause events across the nation.
So what do you think D2S Conference fan, are you in?