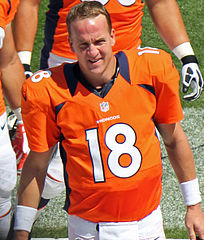 I'm just a preacher and, by no means some football expert. This blog is technically "where the gospel and youth ministry (not sports) collide." But I'm a Colorado native and was raised right across the street from the old Mile High Stadium. In other words my eyes are blue and my blood is orange. So, I'm taking a break from my normal "share your faith" and "get your teens to share their faith" blogposts to give 7 quick reasons I'm convinced the Denver Broncos will beat the New England Patriots today:
1. It's Peyton's place. Peyton Manning + Home field advantage + the giant shadow of past losses = a Denver Broncos' win.
2. Von Miller is gone. The Denver Broncos defense are playing better with Miller out of the line up. For whatever reason it seems like we are better at stopping the run with Miller out than in. Maybe everyone is stepping up and quite literally filling the gaps because that bespectacled beast of a pass rusher is out of the game.
3. Wes Welker wants payback. I think Welker is going to snag some unbelievable catches today with a little "you should have never cut me" grin and glare to that mastermind of a coach named Belichick on the New England sideline.
4. Moreno and Ball. These two guys are turning into the dynamic duo of running the football for the Denver Broncos. Now that Ball has learned to hold on to the ball he's playing better and better ball. This tandem will be hard to stop.
5. Our defense has something to prove. The last few games the Broncos have gotten better and better on defense in spite of more and more injuries (although Chris Harris' ACL injury last week is a big blow.) Coach Fox's "next man up" philosophy has worked extremely well and will continue to today.
6. Champ Bailey will rise to the challenge. I bet the Bronco's old man at cornerback will fill Chris Harris' spot and step up to the challenge. He's been plagued by injuries all season and seems all better now (and just in time too.) I think the next two games he will show us the Champ of old and will show us that "Champ" is short for "Champion."
7. The 12th Man will roar. Forget the Seahawks. No, the Denver Broncos own the decibels on the football field, the real ones and perceived ones. We've owned them for decades not months. We've owned it in good times and bad. That's why Denver is such a tough place to play. The altitude of the city and attitude of the fans combine to become an earsplitting, heart-pounding, breath-taking experience.
Let the smack talk begin. But either way, this should be a great game. Go Broncos!!!